Nail Creation's Brush-On-Builder gel

Nail Creation's bottled builder gel makes application super easy and fast! You can use the Brush-on-Builder gel as a nail overlay on natural nails and it is even suitable to create short nail extentions. This versatile builder gel is perfect for all nail types, even weak or brittle nails.
For overlays and short extensions
Self-leveling
Durable & flexible
HEMA-free
Easy and fast application directly from a bottle!
Available in 7 colors
The bottled builder gel is an alternative to hard gel extensions or acrylic extensions. The product can be used for creating new nail sets as well as infills.
Adding multiple layers to the nail will increase strength. Weak nails can have up to 3 coats. There are 7 natural shades of choice for the perfect natural manicure. Ofcourse the Brush-On-Builder can be covered with a gel polish color too.
Nail Creation Brush-on Builder is a great option for those who prefer a harder product compared to Glamazone Flex Base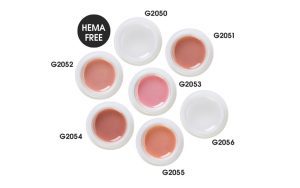 BIAB or Brush-on Builder?
Nail Creation's Brush-On-Builder gel can also be referred to as BIAB or Builder in a Bottle. However, BIAB or Builder in a Bottle is a registrated brand name. Nail Creation's Brush-On-Builder  meets up the technical specifications and is used in the same way. And: HEMA-free!